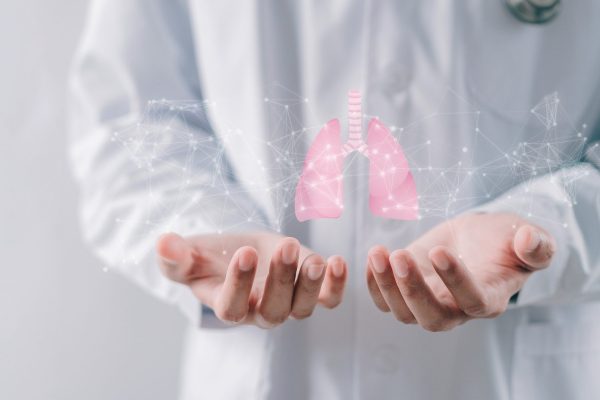 Pulmonary care, also known as respiratory care, involves the testing, diagnosis, treatment, and management of breathing and lung conditions that negatively impact lung function. 
At Southern West Virginia Health System the goals of our pulmonary programs are to help patients reach their maximum potential to participate in all activities of daily living, minimize episodes of feeling breathless, and reduce the need for hospital care. 
If you, or someone you love, is concerned about having a lung condition, we encourage you to make an appointment with your primary care provider to discuss the symptoms you are experiencing and the concerns that you have.  Together, through discussion and initial testing, a referral to our pulmonologist might be the next step for treatment. 
The pulmonary conditions we treat: 
Asbestosis 
Asthma 
Black Lung Disease 
Chronic Cough 
COPD/Emphysema 
Fibrotic Lung Disease 
Lung Cancer 
Lung Infections 
Pneumonia 
Pulmonary Hypertension 
Sleep Apnea 
What is a Pulmonologist? 
A pulmonologist is a physician who specializes in the diagnosis and treatment of conditions that negatively impact the respiratory system which involves the lungs and other organs that help you breathe. 
What is Pulmonary Function Testing? 
Pulmonary Function Testing is a non-invasive test that measures: 
How much air you can breathe in and out of your lungs 
How easily and how fast you can blow air out of your lungs 
What can pulmonary function testing detect? 
Pulmonary function testing can detect which of the two primary types of lung disorders a patient might be experiencing which are obstructive lung disorder and restrictive lung disorder. 
What is obstructive lung disorder? 
People with obstructive lung disorders have shortness of breath due to difficulty exhaling all the air from inside the lungs.  Obstructive lung diseases include: 
COPD 
Asthma 
Cystic Fibrosis 
What is restrictive lung disorder? 
People with restrictive lung disorders cannot fully fill their lungs with air.  Some conditions that can lead to or are associated with restricted lung capacity are: 
Obesity 
Scoliosis 
Pulmonary Fibrosis 
Muscular Dystrophy 
ALS 
What is FeNo Testing? 
FeNo testing is a non-invasive NIOX test that measures the fractional excretion of nitric oxide (FeNO) to both diagnose and monitor Asthma.  The test provides a way to determine how much lung inflammation is present and how well inhaled steroids are suppressing the inflammation. 
Do I need a referral from a primary care provider in order to see a Pulmonologist? 
Yes.  You do need a referral from a primary care provider in order to be seen by a pulmonologist, because it is a specialty branch of healthcare, and initial testing and discussion must occur at the primary care level. 
Are your primary care providers accepting new patients? 
Yes.  All of our locations are welcoming new patients, and we would be happy to help you learn more about the process of establishing care with one of our providers at a location convenient for you. 
Please use the location drop-down tool located at the top of this page to select the location of your choice and it will take you to the location page, where you will find the location's contact information.